Exhibit 99.1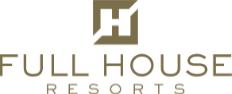 ​
FULL HOUSE RESORTS ANNOUNCES SECOND QUARTER RESULTS
​
- Strong Results Since the Relaunch of Operations
​
- All Properties Reopened by Mid-June 2020
​
- Company's First Mobile Sports Wagering Provider in Colorado Launched Operations in June 2020
​
- Total Cash and Equivalents Increased to $26.5 Million at End of Second Quarter
​
Las Vegas – August 6, 2020 – Full House Resorts, Inc. (Nasdaq: FLL) today announced results for the second quarter ended June 30, 2020.
​
Due to the COVID-19 pandemic, various state regulatory agencies required all of the Company's casinos to close in mid-March 2020. The Company's properties began reopening when permitted by local authorities, beginning with the Silver Slipper Casino and Hotel on May 21, 2020, Grand Lodge Casino and Stockman's Casino on June 4, 2020, and Bronco Billy's Casino and Hotel and Rising Star Casino Resort on June 15, 2020.
​
Because all of the Company's operations were closed in the first half of the quarter, the year-over-year comparisons are not particularly meaningful. The Company has thus, on a supplemental basis, provided the results for the month of June, in addition to the quarterly results. Recognize that not all of the Company's operations were open for the entirety of the month of June 2020, but management believes the June 2020 to June 2019 comparison to be more relevant than the year-over-year second quarter comparisons. The Company does not intend to release monthly results on an ongoing basis.
​
June Results
​
"After a few months of closure to help slow the spread of the coronavirus, we began the process of reopening our properties in late-May. By mid-June, all of our properties were open," said Daniel R. Lee, President and Chief Executive Officer of Full House Resorts. "We still have significant constraints on our operations in order to ensure social distancing and address appropriate health safety concerns. For example, we are not operating table games in Colorado and we have significantly limited our table game capacity in other markets. We are not offering entertainment or any special events that would result in group gatherings. Our restaurants are operating with reduced hours and reduced capacity. We are currently operating only about 1,650 slot machines to ensure proper distancing between slot players, versus the nearly 3,000 slot machines that we operated in the first quarter. We are also incurring additional costs to sanitize equipment between guests, to police social distancing, to take temperature scans at every entrance, to have employees serve guests at buffets that were previously self-serve, and to provide masks and other protective equipment to employees and guests.
​
"Despite these constraints, our properties have performed very well on an overall basis. In June 2020, for example, consolidated Adjusted EBITDA(a) increased 60% versus June 2019. That strong performance was led by our most important property, the Silver Slipper, which was our only property open for the entire month. On several metrics, June 2020 was the best month in the Silver Slipper's 14-year history. Adjusted Property EBITDA at the Silver Slipper improved 28% in June 2020 from June 2019. Both Bronco Billy's and Rising Star also performed well in June, despite not reopening until midway through the month. Their partial months of operation were strong enough to carry the full month of rent, utilities and other overhead expenses and still outperform the prior-year period, when they were open for the entire month. Partly offsetting the strong results from our larger properties, our Northern Nevada segment saw its operating performance decline in June 2020, as destination travel to our Lake Tahoe location is down and most visitors to the Navy's air station in Fallon, where substantial training is performed, are prohibited from leaving the base."
​
Continued Mr. Lee, "Several months ago, we invested in new slot marketing systems at Rising Star and Bronco Billy's. Those new slot systems provide an improved guest experience, as well as vastly improved analytics. This helps us market more effectively and efficiently. After extensive analysis during the shutdown period, we relaunched the loyalty programs at both properties upon reopening. We also used the shutdown period to reexamine our staffing levels company-wide and we chose to open conservatively in terms of amenities and hours of operation, given the uncertainty of the customer response to reopening in the midst of a pandemic. We are pleased that customers have generally responded positively, recognizing that it is possible to operate a casino with appropriate social distancing and health safety measures. We think our positive results also reflect that people generally drive rather than fly to our casinos and that we do not rely on casino resort amenities such as shows, nightclubs or convention facilities, which by their nature, result in group gatherings.