Exhibit 99.1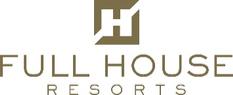 ​
​
FULL HOUSE RESORTS ANNOUNCES STRONG FOURTH QUARTER RESULTS
​
- Operating Income Improved to $7.7 Million from an Operating Loss of $0.4 Million;
Net Income Improved to $3.5 Million from a Net Loss of $4.1 Million;
Adjusted EBITDA More Than Quadrupled from Prior-Year Quarter
​
- Company Issued New 8.25% Senior Secured Notes due 2028;
Proceeds Used to Refinance Its Existing Debt, Retire Warrants to Purchase Approximately One Million Shares,
and Fully Fund Its New Casino Hotel in Cripple Creek, Colorado
​
- Construction of Augmented Cripple Creek Project has Restarted;
New Casino Hotel is Expected to Open in the Fourth Quarter of 2022
​
- Third Sports Wagering Provider Launched Operations in December 2020;
Remaining Three "Skins" Expected to Begin Operations Shortly
​
- As of February 28, 2021, Company Has Approximately $232 Million of Cash and Equivalents,
Including $180 Million in a Construction Reserve Account
​
​
Las Vegas – March 8, 2021 – Full House Resorts, Inc. (Nasdaq: FLL) today announced results for the fourth quarter ended December 31, 2020.
​
On a consolidated basis, revenues in the fourth quarter of 2020 were $38.3 million, versus $39.0 million in the prior-year period. Net income for the fourth quarter of 2020 rose to $3.5 million, or $0.12 per diluted common share, from a net loss of $4.1 million, or $(0.15) per diluted common share, in the prior-year period. Net income in both periods was affected by the accounting for the fair market value of outstanding warrants, which the Company repurchased in February 2021 for $4.0 million. Adjusted EBITDA(a) in the 2020 fourth quarter was $9.8 million, versus $2.3 million in the fourth quarter of 2019. This strong growth primarily reflects new marketing programs and staffing improvements enacted in late 2019 and early 2020 at the Company's properties. Results for the fourth quarter of 2020 also include $0.6 million of revenue related to a full quarter of operations for two of the Company's six permitted sports wagering websites and approximately one week of operations from a third sports wagering website. The Company expects the other three websites to begin operations shortly.
​
For the full year, total revenues declined to $125.6 million in 2020 from $165.4 million in the prior year, reflecting approximately three months of pandemic-related closures for all of the Company's properties last spring. Net income for 2020 was $0.1 million, or $0.01 per diluted common share, compared to a net loss of $5.8 million, or $(0.22) per diluted common share, in the prior year. Despite several months of closure, Adjusted EBITDA in 2020 rose 23.3% to $19.7 million from $15.9 million in 2019, reflecting operational and marketing improvements that bore results in the second half of 2020.
​
"Much like our third quarter, we had a phenomenal fourth quarter," said Daniel R. Lee, President and Chief Executive Officer of Full House Resorts. "The fourth quarter tends to be seasonally weaker than the third quarter, but our properties continued to perform extremely well adjusted for the seasonality. Adjusted EBITDA for the second half of 2020 was more than the total for all of 2019. We now have approximately eight months of successful 'reset operations' behind us. While capacity restrictions remain, as well as some additional costs related to the pandemic, so do the structural changes that we have made regarding our marketing and the ways we operate. We continue to believe that these results of the past several months are sustainable."
​
Continued Mr. Lee, "Many of the changes to our business operations were in the implementation process prior to the pandemic. For example, at both Bronco Billy's and Rising Star, we replaced antiquated slot marketing systems late in 2019. With the improved systems, we are now able to provide a better customer experience, while the improved analytics of those systems have allowed us to eliminate unprofitable marketing offerings that cost us more than the incremental revenue they created.
​
"Physical improvements that we made in recent years have also helped our results. We refurbished the casino and buffet at the Silver Slipper, for example, in 2019. We built a new restaurant at Rising Star, also in 2019, which now supplants the unprofitable buffet we had been operating. The ferry boat service we implemented at Rising Star in 2018 has now become a contributor to our results when one considers the same-day gaming activity of ferry boat passengers, which we can track with the new system.