Exhibit 99.1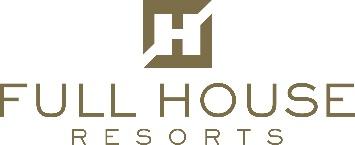 ​
​
FULL HOUSE RESORTS ANNOUNCES STRONG SECOND QUARTER RESULTS
​
- Revenues Increase 226.9% Over Prior-Year's Second Quarter
​
- Operating Income Improved to $12.2 Million from an Operating Loss of $4.2 Million;
Net Income Improved to $5.5 Million from a Net Loss of $6.7 Million;
Adjusted EBITDA Increased to $14.9 Million from an Adjusted EBITDA Loss of $1.4 Million
​
- Construction of Chamonix Casino Hotel Continues
​
- Two Sports Wagering Providers Launched Operations in April 2021;
Five of Six Permitted "Skins" are Now Operating
​
Las Vegas – August 10, 2021 – Full House Resorts, Inc. (Nasdaq: FLL) today announced results for the second quarter ended June 30, 2021.
​
On a consolidated basis, revenues in the second quarter of 2021 were $47.4 million, a 226.9% increase from $14.5 million in the prior-year period. The prior-year period reflects the pandemic-related closure of all of the Company's properties from mid-March 2020 through late-May 2020 for Silver Slipper, and through June 2020 for its other properties. Net income for the second quarter of 2021 improved to $5.5 million, or $0.15 per diluted common share, from a net loss of $6.7 million, or $(0.25) per diluted common share, in the prior-year period. Net loss in the 2020 period was affected by an adjustment to the fair market value of outstanding warrants, all of which the Company repurchased and retired in February 2021. Adjusted EBITDA(a) in the 2021 second quarter was $14.9 million, versus an Adjusted EBITDA loss of $1.4 million in the second quarter of 2020. The strong growth in the 2021 period was due to operational and marketing improvements that bore results beginning in the second half of 2020 and continuing through the second quarter of 2021, as well as the mandated closures noted above. Results for the second quarter of 2021 also include $1.5 million of revenue related to the Company's Contracted Sports Wagering segment. Currently, five of the Company's six permitted sports wagering "skins" in Indiana and Colorado are live, as two additional sports wagering websites launched on April 1 and April 23, 2021. The last remaining sports skin is expected to begin operations in the coming months.
​
"As with last quarter, our financial results continue to benefit from structural changes throughout the company," said Daniel R. Lee, President and Chief Executive Officer of Full House Resorts. "Revenues in the second quarter of 2021 increased approximately 227%, reflecting the mandated closure of our properties for much of last year's second quarter. Adjusted EBITDA increased by more than $16 million to $14.9 million in the second quarter of 2021, reflecting labor and marketing improvements. For the year-to-date period, Adjusted EBITDA totaled $25.7 million. These operating results are significantly above not only the 2020 period, but also meaningfully above any second quarter or first-half results in at least the past five years.
​
"These strong continued results have allowed us to continue to re-invest in, and improve, our properties. For example, with the ramp-up of our new marketing systems at Bronco Billy's and Rising Star largely complete, we now look forward to upgrading the casino marketing systems at our two Nevada properties, scheduled for this year's fourth quarter. Our Silver Slipper property, after several years of adding new amenities and with a new exterior color scheme, is essentially a new and reinvigorated destination. We also continue to invest in new slot product throughout the Company. In many ways, our current results are the product of several years of investments in our casinos and new technology, as well as the diligent efforts of our team across the country."
​
Continued Mr. Lee, "At our Chamonix project in Cripple Creek, we have completed the major portion of the on-site utility work. Installation of micro-piles for the project's foundation is approximately 25% complete. As construction prepares to go vertical, we recently installed the highest crane tower, in terms of cab height above sea level, in Colorado's history. Substantial completion of the project is expected in the fourth quarter of 2022. It is still relatively early in the construction process, so estimates of cost and completion dates still contain substantial uncertainty.
​