Exhibit 99.1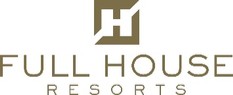 ​
​
FULL HOUSE RESORTS ANNOUNCES FOURTH QUARTER RESULTS
​
- The Temporary by American Place Officially Opened on February 17th;
Illinois Sports Skin Expected to Commence Operations in the Coming Months
​
- Construction Continues at Chamonix Casino Hotel, with an Opening Expected in the Second Half of 2023
​
- Executed New Sports Skin Agreement in Colorado
​
- Lease Agreement to Operate Grand Lodge Casino in Lake Tahoe Extended to December 31, 2024
​
- Completed a $40 Million Bond Deal in February, Further Ensuring That
No Additional Capital Will be Required Prior to Arranging Financing for the Permanent American Place Casino
​
Las Vegas – March 7, 2023 – Full House Resorts, Inc. (Nasdaq: FLL) today announced results for the fourth quarter and year ended December 31, 2022, including updates regarding its growth pipeline.
​
"On February 17th, The Temporary by American Place officially opened to the public," said Daniel R. Lee, President and Chief Executive Officer of Full House Resorts. "We are very pleased with the positive response received from guests thus far, with many commenting that The Temporary is one of the nicest casinos in the area, despite being in a temporary structure. In its first twelve days of operation, we welcomed more than 40,000 guests through its doors.
​
"Typical of many new casinos, we opened at less than full capacity. On opening night, for example, only approximately 80% of our slot floor and 60% of our permitted table games were available. Over the coming weeks, we expect to further augment the number of available games on our floor and increase the hours of operation for our table games, which currently operate from 2 p.m. to 2 a.m. As our team gains more experience, we also expect to operate the casino 24 hours per day, versus our current schedule of 8 a.m. to 4 a.m.
​
"We are currently operating only one of our restaurants, L'Américain. We expect to open our Asia-Azteca fusion restaurant in the next few weeks. A third restaurant, North Shore Steaks and Seafood, is expected to be completed and open in the second quarter. Given the early response to The Temporary, we remain confident in our ability to generate attractive returns from both The Temporary and our future American Place destination."
​
Continued Mr. Lee, "At our Chamonix project in Cripple Creek, Colorado, we continue to make substantial progress. Drywall is being installed in guest rooms and the public areas. We recently installed the escalators from the entry level up to the second-floor meeting space, and are preparing for the installation of elevators. We continue to target an opening of Chamonix later this year, potentially with a phased opening beginning in the third quarter of 2023."
​
For project renderings and live construction webcams, please visit www.AmericanPlace.com and www.ChamonixCO.com.
​
On a consolidated basis, revenues in the fourth quarter of 2022 were $36.1 million, a decrease from $43.3 million in the prior-year period. Net loss for the fourth quarter of 2022 was $7.0 million, or a loss of $0.20 per diluted common share, which includes $4.8 million of preopening and development costs. In the prior-year period, net income was $5.0 million, or $0.14 per diluted common share, including $0.3 million of development costs. Adjusted EBITDA(a) in the 2022 fourth quarter, which is a seasonally slow quarter, was $3.9 million versus $7.9 million in the prior-year period. The change reflects adverse weather in December 2022; construction disruptions at Bronco Billy's; the launch of competing online sports wagering in Louisiana; and increases in certain expenses, notably for property insurance and food costs.
​
For the full year, revenues were $163.3 million, net loss was $14.8 million, and Adjusted EBITDA was $32.1 million in 2022. In 2021, which benefited from guests receiving government stimulus checks, revenues were $180.2 million, net income was $11.7 million, and Adjusted EBITDA was $47.2 million.
​