Exhibit 99.1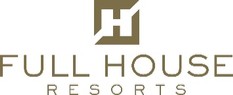 ​
FULL HOUSE RESORTS ANNOUNCES SECOND QUARTER RESULTS
​
- Revenues Increased 33.8% to $59.4 Million
​
- The Temporary by American Place Completes Its First Full Quarter of Operations;
Illinois Sportsbook Expected to Commence Operations Shortly
​
- Opening of Chamonix Casino Hotel in Colorado Slated for December 26, 2023
​
Las Vegas – August 8, 2023 – Full House Resorts, Inc. (Nasdaq: FLL) today announced results for the second quarter ended June 30, 2023, including updates regarding its growth pipeline.
​
"The Temporary by American Place completed its first full quarter of operations, recording $20.3 million in revenue and $4.1 million in Adjusted Property EBITDA," said Daniel R. Lee, President and Chief Executive Officer of Full House Resorts. "The trends at The Temporary are similar to those of many other successful casinos. The number of visitors surged at opening in mid-February and then, after a short lull, has grown steadily since April. Meanwhile, its win per admission, while still less than more-established casinos in Illinois, has grown steadily since opening, as regular players replace people who were more tourists than gamblers. Note that in July, our fifth full month of operations, the property's reported gaming revenues ranked sixth out of the 13 casinos in operation in Illinois. Our expenses relative to revenues have been higher than we expect them to be at 'maturity,' reflecting primarily our costs to train new personnel, especially dealers, and additional advertising and marketing costs. We currently have 48 table games on the casino floor, of our planned 50 tables. Due to staffing challenges, however, we are currently operating only approximately 30 of those tables on a typical weekend evening. The shortage of dealers also affects the number of tables that we operate in non-peak periods. We continue to operate our own dealer school, where potential dealers are paid during their several weeks of training, which affects margins and profitability, but is necessary to reach the property's potential. Our marketing expenses are also expected to gradually become more efficient over time, as we build a database and achieve broader brand recognition.
​
"The Temporary initially opened to the public on February 17, 2023, just 14 months after we were selected by the Illinois Gaming Board to develop the Waukegan opportunity. It opened with limited food service, limited hours of operation, and low table game limits. We currently operate two restaurants on most days, one in the evenings and the other for lunch. The property's high-end restaurant, North Shore Steaks and Seafood, is expected to open later this year. Our casino is now open 24 hours per day on weekends and from 8:00 a.m. to 4:00 a.m. during the week. As of May 13, we have been able to set our own table game betting limits, which are now up to $5,000 per hand. Table limits may increase further as our casino staff gains greater experience. As noted, we continue to hire and train dealers, which will allow us to operate more table games during busy periods. Our on-site sportsbook, which will be operated in partnership with Circa Sports, is expected to open shortly. Circa Sports is also expected to begin online sports betting in Illinois soon, with the first payment under our agreement due in mid-August."
​
Continued Mr. Lee, "At our Chamonix project in Cripple Creek, Colorado, meaningful construction continues, with exteriors now largely complete. Within the main hotel tower, our contractor is completing guest rooms and we anticipate beginning the installation of furniture shortly. The extensive millwork in the casino and high-end restaurant is also underway. We expect to begin taking hotel reservations for Chamonix at www.ChamonixCO.com shortly. We look forward to welcoming guests to our Chamonix Casino Hotel on December 26, 2023. It will be the first luxury casino hotel in the Colorado Springs area, and we believe it will be one of the best casino hotels in the entire Midwest."
​
On a consolidated basis, revenues in the second quarter of 2023 were $59.4 million, a 33.8% increase from $44.4 million in the prior-year period. Net loss for the second quarter of 2023 was $5.6 million, or $(0.16) per diluted common share, which includes $1.1 million of preopening and development costs, primarily related to our Chamonix construction project, and significant depreciation and amortization charges related to The Temporary. In the prior-year period, net loss was $4.4 million, or $(0.13) per diluted common share, reflecting $1.6 million of preopening and development costs, Rising Star's sale of "free play" (which also occurred during 2023, though in the first quarter instead of the second quarter), and the acceleration of deferred revenue for two sports wagering agreements that ceased operations in May 2022. Adjusted EBITDA(a) was $10.5 million in the 2023 second quarter, versus $12.1 million in the prior-year period, reflecting the items mentioned above, plus elevated marketing, training expenses, and other ramp-up costs for the newly-opened Temporary.
​
For project renderings and live construction webcams of our Chamonix project, please visit www.ChamonixCO.com.