Exhibit 99.1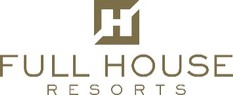 ​
FULL HOUSE RESORTS ANNOUNCES STRONG THIRD QUARTER RESULTS
​
- Revenues Increased 72.8% to $71.5 Million;
Net Income Improved to $4.6 Million;
Adjusted EBITDA Rose 165.9% to $20.6 Million
​
- Operations at The Temporary by American Place Continue to Ramp;
Illinois Sportsbook Operations are Now Live
​
- Opening of Chamonix Casino Hotel in Colorado Slated for December 26, 2023
​
​
Las Vegas – November 8, 2023 – Full House Resorts, Inc. (Nasdaq: FLL) today announced results for the third quarter ended September 30, 2023, including updates regarding its growth pipeline.
​
"As envisioned, results at The Temporary by American Place continued to improve during the third quarter," said Daniel R. Lee, President and Chief Executive Officer of Full House Resorts. "Our table games business at The Temporary was strong initially, and continued to build as we hired more dealers and increased the number of available table games. Our slots business also continues to ramp up, aided by our guest database that continues to grow meaningfully in size with every passing week. As a result, both revenues and Adjusted Property EBITDA at The Temporary increased from the second quarter of this year, reaching $23.9 million and $6.8 million, respectively. The Temporary's available amenities also continue to expand, with the on-site sportsbook welcoming its first bets approximately one month ago. We are close to unveiling the last remaining amenity at The Temporary – North Shore Steaks and Seafood, the property's high-end dining option – which we expect to open at the end of the fourth quarter.
​
"Meanwhile, at our Chamonix project in Cripple Creek, Colorado, significant construction continues in advance of the destination's opening on December 26. Workers are currently installing furniture throughout the hotel. Within the casino, we are about to begin installation of slot bases, followed by the final placement of slot machines throughout November and early December. In our convention space, we recently installed chandeliers in the main ballroom and are preparing to install furniture. We are excited to welcome guests to Chamonix – designed to be the best casino in the state of Colorado – in less than two months."
​
On a consolidated basis, revenues in the third quarter of 2023 were $71.5 million, a 72.8% increase from $41.4 million in the prior-year period. These results reflect the February 2023 opening of The Temporary, as well as $5.8 million of accelerated revenue for two sports wagering agreements that ceased operations during the third quarter of 2023. Net income for the third quarter of 2023 was $4.6 million, or $0.13 per diluted common share, which includes $1.1 million of preopening and development costs, primarily related to our Chamonix construction project, and significant depreciation and amortization charges related to The Temporary. In the prior-year period, net loss was $3.6 million, or $(0.10) per diluted common share, reflecting $2.4 million of preopening and development costs. Adjusted EBITDA(a) was $20.6 million in the 2023 third quarter, rising 165.9% from $7.8 million in the prior-year period, reflecting the items mentioned above.
​
For project renderings and live construction webcams of our Chamonix project, please visit www.ChamonixCO.com.
​